Here's What's Wrong With "Cost Per Hire"
By: Gary Miller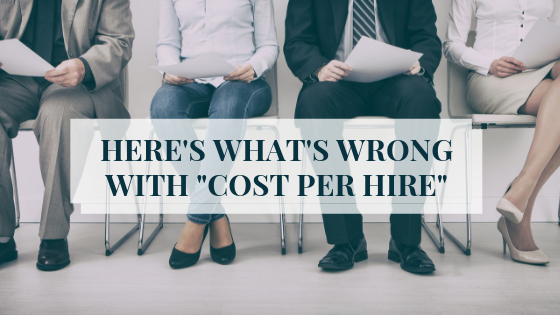 Cost Per Hire is a traditional and widespread math equation measuring the investment that goes into talent acquisition as the numerator and number of hires over a given time period as the denominator. The total cost of the internal recruiting staff, referral programs etc. make up the internal costs. Job boards, advertising, recruiting firm fees, job fairs, college programs add to the external costs. Closely measuring this is sensible on the surface and most strategy is around the obvious question, "how can we reduce Cost Per Hire"?
Here's what's wrong….not all hires are created equal. Consider these two scenarios. One new "hire" lasts a few months, causes disruption, is a drag on the team, is an HR nightmare, then leaves. The second hire gives their all, enhances the culture, gives more than is asked, makes others around them better and invariably, takes on more and more responsibility. Then they get promoted, lead teams, develop others, help you break into new markets, launch new products…and then replicate themselves.
The wear on the organization of the first "bad" hire is immeasurable, and yet so is total value of the second. The second hire is a positive amplifier and value creator that is light years ahead of the first one, and yet both are considered equal as "hires" in the equation.
The "right" measure is total investment in recruiting costs divided by the overall lifetime contribution of the people hired. We know that's complicated, but we also know this: The things that are the highest value are the hardest to measure.
If you need help identifying and recruiting your next wave of high value contributors, let's talk. It will be worth it.